Health & Safety
Table of Contents: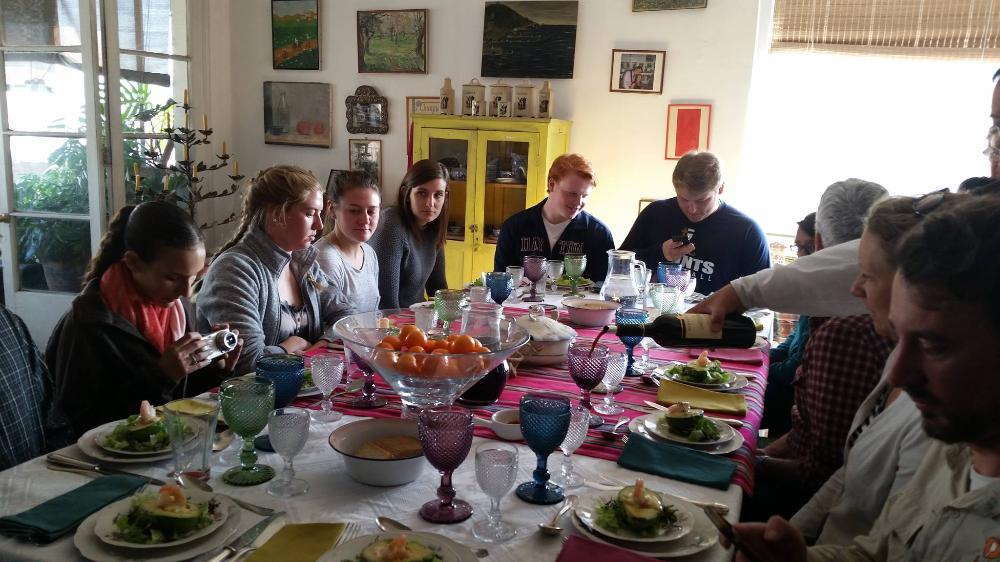 Staying Safe Abroad
While the rewards of studying abroad are great, the thought of your son or daughter abroad may be a little unnerving. Be assured that the odds of your student having a safe and incident-free study abroad experience are very good, regardless of where they go. There are, however, still inherent risks when travelling. The University and the Office of Education Abroad takes safety concerns very seriously and your student's health and safety is a top priority. In order to manage risks, the Office of Education Abroad takes a number of measures to help ensure student safety while abroad, including daily monitoring of world-wide situations, executing up to date health and safety protocols in collaboration with key campus stakeholders, facilitating health and safety preparation sessions for all groups preparing to travel abroad, issuing proactive communication about specific health or travel threats, utilizing a world-renowned medical and security support service to manage all emergencies abroad, and being in contact with overseas partners and any on-site faculty or staff at all times.
Regardless, using common sense and good judgment is the best tip for staying safe anywhere in the world, so it's important to have a conversation with your student about their health and safety abroad, know the resources at their/your disposal while they are abroad and make sure you are both prepared for the upcoming experience.
The Institute of International Education and the American Institute of Foreign Study - leading organizations in the field of international higher education - recommend the following advice for parents of students traveling abroad:
Research the risks. Crime and disease statistics are almost always given for the overall population, so the best resources for this are the U.S. Dept. of State, CDC and International SOS.
Advise your student to:

Be especially alert upon arrival
Be familiar with local laws
Get to know the neighborhood
Avoid carrying important or valuable items
Be aware of cultural norms
Develop a contingency plan for everything from lost luggage to emergency evacuation
Be smart with money
Keep family and friends apprised of his or her whereabouts
Maintain a low profile
Don't walk around at night alone
Don't accept food or drinks from strangers
Don't get drunk
Don't use drugs
Be aware of possible anti-American sentiment
Insurance
All UD students that are studying abroad are
required
to have adequate medical insurance coverage for the duration of the program. Click
here
to read the Health & Safety Abroad information regarding insurance requirements, and ensure they have adequate coverage.
Students may elect to have other forms of insurance such as personal, travel or policies which cover personal belongings. The purchase of this type of insurance is considered elective and at the discretion of the traveler.
International SOS
The University of Dayton has contracted with International SOS to provide worldwide medical, travel, and security assistance and evacuation services for all faculty, staff, and students. Click
here
to read the Health & Safety Abroad information regarding International SOS and their services. Before and during time abroad, all travelers should regularly review up-to-date International SOS reports on safety and security, health issues, medical care and vaccination requirements for the destination country.
All travelers should obtain from the Office of Education Abroad an International SOS wallet card to carry with them. Travelers are NOT required to have a card to obtain services, however. There is also a free mobile app for International SOS that travelers may download and use while abroad.
Please note: International SOS is NOT an insurance provider.
Emergencies
In the case of a local emergency, students are generally encouraged to contact proper local authorities as well as any UD faculty, staff or host institution representative. If a student is unsure what to do in an emergency situation, they may also contact International SOS for medical or security advice. Students, faculty or parents may also call the Office of Education Abroad for assistance on our emergency line
(937-985-0303)
which is available 24/7. Students on programs that have UD faculty or staff or a Third Party Program Provider representative on site are encouraged to contact them immediately, so that they may provide more immediate support.
The University makes great efforts to prepare all UD students for emergencies abroad and they are, thus, empowered to make the right decisions during an emergency. If assistance is needed, the best resources at a student's disposal are those in the immediate vicinity (e.g. ambulance, police, hospital, clinics, friends, etc.). While the University, if notified, will act quickly and efficiently to provide support to the student, it may be limited in its scope due to distance and time zones. Therefore, utilizing local resources and support, including International SOS, is highly recommended.
Immunizations & Medications
Depending on the destination, certain immunizations may be recommended or required before departure. Visit the CDC's traveler health information website to find out if this is true for your student.
http://wwwnc.cdc.gov/travel/
Additionally, it's possible certain medications may not be readily available in your student's destination country. If a student is taking any medications, they should bring enough with them to last their entire time abroad. All prescription medication must be properly labeled prior to travel to better ensure they are not confiscated during airport security checks. Usually, doctors will be able to fill extended prescriptions in order to accommodate this kind of situation. If not, research the options available abroad and consider an alternative program, if necessary.
Ability Considerations
Students experiencing a chronic/temporary medical disability are able to study abroad. They are strongly encouraged to consult with UD's
Office of Learning Resources (OLR)
, the UD
Counseling Center
and the UD
Health Center
prior to applying for a particular program. Other national resources include
Mobility International
and
Diversity Abroad
. Though attitudes about disabilities, accessibility and accommodations vary by country, the University of Dayton will make every reasonable effort to accommodate students with any chronic or temporary medical conditions or disabilities that seek to go abroad. It will also benefit the student to do research on the culture, law and resources available to them in a particular country. It is possible that one type of education abroad program or country destination may be more suitable for your student than others. The Office of Education Abroad and the offices listed above will help advise your student on their best options. Additionally, it is important to research the following questions about your host community/country:.
1. What are the attitudes and perceptions of individuals with your disability?
2. How accessible are the services and resources you need to feel supported?
3. What accommodations are possible so that you feel supported while abroad?
4. How are these accommodations similar or different to the support you receive in the U.S.?