Study Abroad Programming
Table of Contents: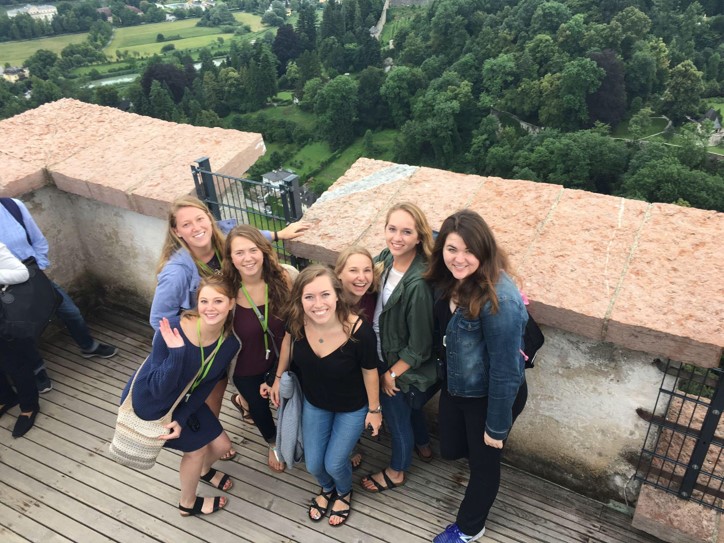 There are several factors to consider when choosing an education abroad program. Program type and length of stay, available courses, a student's academic/career goals, finances, language ability, and destination preferences are just some important factors for your student to keep in mind.
Your student can always speak with their academic and education abroad advisors to help them determine which program will be the best fit in accordance with these factors. These advisors are an integral member of the "team effort" it takes for students to be prepared to go abroad.
There are a variety of program types and lengths from which your student can choose. It's important to understand the differences if your student needs help selecting the right kind of program for them. Click here and see below for more information on Program Types. The University of Dayton offers Summer
Faculty-Led Programs
,
Exchange Programs,
Service and Immersion Programs
, and a special year-long program called
SAIL
(Semester Abroad and Intercultural Leadership). Students may also choose to go through a
Third-Party program
in order to study abroad. These options are defined below.
The majority of the information below is most relevant for undergraduate education abroad programs. If your student is a post-graduate seeking education abroad opportunities, they may contact us for more information.
These programs take place over winter or summer break, usually during the months of May, June, and July, and may last anywhere from three to six weeks. Students travel with a cohort of UD students that is led by UD faculty while taking 2 or 3 courses. Programs are either interdisciplinary (include some courses that fulfill general education, elective or CAP requirements and involve faculty from a variety of disciplines teaching around a common theme) or discipline-specific (include courses from a specific area of study that allow majors and minors to meet requirements for their degree).
Destinations and course subjects offered will vary year to year; click here to view a list of all of UD's current program options.
The University of Dayton has developed direct partnerships with several universities abroad and at home with Marianist universities in Texas and Hawaii. Students may study at these host universities for a semester or a full academic year. They take a full course load to continue their path to timely graduation. A variety of courses are available in English and other languages, depending on availability and language proficiency.
These programs are coordinated by the Campus Ministry's Center for Social Concern, the School of Engineering as well as other departments from time to time and each program may last from 10 days up to 10 weeks during the Winter and Summer breaks. Service and Immersion programs offer
service-learning opportunities
within another culture. Service-learning is a teaching and learning strategy that integrates community service with instruction and reflection to enrich the learning experience and strengthen communities. These experiences are typically not credit-bearing. Some sample program sites include Guatemala, India, Belize, Cameroon, Mexico, and Zambia. These sites will vary from year to year; click
here
to view a list of all of UD's current program options.
This innovative program, which began in 2016, involves studying abroad during the fall semester at one of three sites in China, Ireland, or Spain followed by participation in an intercultural leadership program during the subsequent spring semester, and includes special housing. It is open to all majors, and the host institutions abroad offer a comprehensive set of subjects and coursework from which students can choose. SAIL is a no-additional cost program. This means that a student would pay the same amount for their fall semester abroad as they would at UD (including UD tuition, room and board). In addition, students accepted into the SAIL program are eligible for a $3,000 scholarship to help fund the experience.
Third-Party Program Providers ("Providers" for short)
are programs that are run through other U.S. colleges & universities, universities abroad, or an organization not affiliated with the University of Dayton. Many Providers are U.S.-based, non-profit organizations. When students study abroad through a Provider, most aspects of their experience, from enrollment to in-country support, will be coordinated by the Provider.
Providers offer a variety of programs in a multitude of countries throughout the year. This flexibility makes using a Provider a popular choice for students who would like more options in terms of destinations. The Office of Education Abroad advisors are familiar with many Providers and can help your student navigate them in terms of needs, interests, cost and reputability. Some of the more popular Providers among UD students are Academic Programs International (API), International Studies Abroad (ISA), American Institute for Foreign Study (AIFS), CEA Study Abroad and The Education Abroad Network (TEAN).
The University of Dayton also offers, and continues to explore, opportunities abroad to allow a student to become immersed in different cultures through internships, research and service-learning. Examples include human rights development research in Malawi, providing health and support services in select developing countries and the Global Flyers program for Honors students. The Office of Education Abroad can help students find the right option. To make an appointment, students should visit udayton.studioabroad.edu and click on the
"schedule an advising appointment" tab.
Many parents and students worry that studying abroad will delay their graduation. This should not be the case as long as the student checks with their Academic and Education Abroad Advisors ahead of time to map out a degree course and check which courses may be taken abroad for either UD credit or transfer credit.
UD credit = credit that receives a letter grade and affects GPA.
Transfer credit = pass/fail credit (i.e., if a student receives a "C-" or better in this course, it will appear on their transcript as "Pass" and a "K" grade and won't affect their GPA).
CAP Courses = These are the general education courses, called Common Academic Program courses, that every UD student must take in order to graduate. The more CAP courses a student has left to take, the more program options they may have to choose from because these tend to be more common and broad-topic courses that can be fulfilled at many host universities abroad. For this reason, the earlier a student decides to study abroad, the more options there will be available to him/her that won't delay graduation. We recommend that students visit our office and attend our annual Education Abroad Fair (September) during their first year at UD. It is possible for a junior or senior to study abroad, but planning is still required ahead of time. Students should work closely with their advisors to determine how studying abroad may work for them.
Structure
Length
Credit
Expenses
UD: Faculty-Led Programs
Travel with a cohort of students from UD

Led by UD faculty members, sometimes with assistance from staff and/or TAs
Programs vary in length

Typically 3-6 weeks during the summer or 1-2 weeks over winter break
Credit directly correlates to the UD course

Credit will calculate into GPA

Occasionally there is an exception where a course may be offered for transfer credit only
Costs include UD tuition, a program fee, international airfare and personal spending money

Financial aid may apply
UD: Exchange Programs
UD and a partner university exchange students for a semester or year (1-for-1)

Exchange options are limited to selected locations
Programs are typically a semester long, but some are open for an entire academic year

Academic terms may be shorter or longer than an American student is used to
Students are registered full-time and earn transfer credit, typically counting towards a student's UD degree requirements

Courses are either taught in English, or in the host country's language

Credit will not affect GPA
UD tuition rate for that term or year

Additional costs include housing, travel & living expenses

Select programs include the cost of room/housing

Financial aid may apply
UD: Service & Immersion
Coordinated through the Center for Social Concern, ETHOS or another UD department

Structure varies based on location
1-2 weeks during winter break, 2 weeks in May or 4-10 weeks during the summer
Typically not credit-bearing

Sometimes there is a credit-bearing component to the program in the semester preceding or following the program abroad
Costs include travel, room & board, other misc. expenses, and at times materials for volunteer work

Some programs are partially subsidized by the sponsoring department
UD: SAIL
Student spends fall semester abroad, and then spring semester on-campus in special housing while undergoing an intercultural leadership program
1 semester abroad, followed by 1 semester on-campus in special housing while undergoing an intercultural leadership program
Students are registered full-time and earn transfer credit (UD credit awarded if attending the China Institute)
No-additional cost model: UD tuition, UD room & board for the fall

UD scholarships and federal financial aid applies

$3,000 scholarship
Non-UD or Third-Party Programs
Any program organized by an outside company or university
Most aspects of the experience will be coordinated by the provider
Any: summer, semester, year-long, winter

Transfer credit with academic advisor's approval




Credit will not affect GPA
Costs will vary based on the program and the duration of the program

UD scholarships typically cannot be applied to program costs

Students that study abroad become ambassadors for the university and the country. For this reason, among others, UD reserves the right to deny participation in a study abroad program - or a recommendation to participate - to any student that is not in good disciplinary standing.

The Office of Education Abroad, in partnership with Office of Community Standards and Civility, has a process by which all students are screened for program eligibility on the basis of being in good disciplinary standing. Should a student not be in good disciplinary standing at the time of their application, or at any point leading up to a program's departure date, they will be denied participation in the program. There is a formal appeals process in place for students that are affected by this and wish to remain a part of the program. Appeals are assessed on a case by case basis.

With regards to university-sponsored education abroad programs, the University is committed to creating as safe an environment as possible for all students, faculty, staff as well as partners and host communities abroad.
University of Dayton students are always held to the standards of behavior outlined in the Code of Conduct in the University of Dayton's Student Handbook (pg. 31-39) both on and off campus, even while abroad. If a student is documented for a possible violation of the Code of Conduct while on an education abroad program, the situation will be addressed and reported as if the violation occurred on campus. Additional actions may include a written warning to the student, limitations on participation for certain program events, and an official report of the violation submitted to the Office of Community Standards and Civility, which will then handle any inquiries or investigations if it is deemed necessary. Previous disciplinary records at UD may be taken into account during any investigations. If the violation is severe enough, the student may be sent home early from the program without a refund.
Students experiencing a chronic/temporary medical disability are able to study abroad. They are strongly encouraged to consult with UD's
Office of Learning Resources
(OLR), the UD
Counseling Center
and the UD
Health Center
prior to applying for a particular program. Other national resources include
Mobility International
and
Diversity Abroad
. Though attitudes about disabilities, accessibility and accommodations vary by country, the University of Dayton will make every reasonable effort to accommodate students with any chronic or temporary medical conditions or disabilities that seek to go abroad. It will also benefit the student to do research on the culture, law and resources available to them in a particular country. It is possible that one type of education abroad program or country destination may be more suitable for your student than others. The Office of Education Abroad and the offices listed above will help advise your student on their best options. Additionally, it is important to research the following questions about your host community/country:
What are the attitudes and perceptions of individuals with your disability?
How accessible are the services and resources you need to feel supported?
What accommodations are possible so that you feel supported while abroad?
How are these accommodations similar or different to the support you receive in the U.S.?